ALWAYS AT THE FOREFRONT
Accessorise your new 2021 Nissan Navara,
with a hand-crafted, built to last Beekman Canopy
Browse Our Product Range
Quality Fibreglass Canopies that offer Style, Strength and Durability.
Beekman offers a comprehensive range of bakkie canopies for most makes of vehicles – with products for leisure, commercial and industrial applications.
Beekman's superior quality canopy, services and products are designed with the strength, durability and design features catered for all markets.
Beekman is the only locally manufactured fibreglass canopy with ISO 9001 Accreditation for strict design and manufacturing quality standards.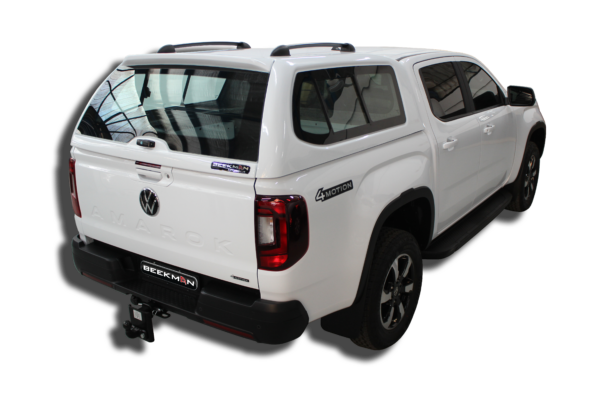 Beekman has been manufacturing and distributing high-quality canopies across Southern Africa for nearly 50 years. We believe in supplying not only quality products but quality service to all our customers.
But don't take our word for it. Join us on social media and read our latest reviews below.
"Great service as always.
Super friendly staff."
"Perfect execution. Helped me deliver my customers' vehicle on time. First time using them, Carl will forever be my go-to man for fitments. Results speak for themselves -very well done."
"any problem u hv regarding a beekman conopy they solve it. lowest discount as well"
"Great service.
So quick.
Friendly and affordable."
Fast friendly service, with top notch quality!
5 stars to Andrew and his team!
WHY CHOOSE A BEEKMAN BAKKIE CANOPY?
Beekman canopies and accessories are designed to protect your goods from natural elements be it with a lifestyle in the outdoors or on the roads for your business.
Whether you're delivering goods, kayaking, mountain biking or working on site, a Beekman Canopy makes for a durable addition to your outdoor or business ventures.
Beekman offers all customers professional fitment centres across Southern Africa. Our wide range of products are available to be fitted by our passionate and proficient technicians.
We ensure that our customers receive the best quality products, professional fitments along with first-class applications and nationally backed warranties.
We pride ourselves on never being complacent with our products. Our team of designers, engineers and product technicians are constantly pushing the envelope with design, form, function and aerodynamics.
Our team stay up-to-date with trends and needs of our customers, delivering new canopy designs as new vehicles get released in the market.
COUNTRYWIDE PROFESSIONAL FITMENTS
Need to Find a Fitment Centre? Use our helpful locator to find your nearest Beekman Canopies fitment centre in your area.
Our helpful staff across our agent network are available to answer any questions you may have on any of our products. Make sure to make a turn or give a call to your nearest Beekman Canopies Fitment Centre.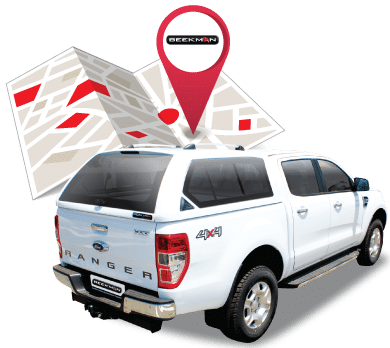 FUNCTIONALITY.
QUALITY.
AESTHETICS.