Beekman has steadily grown to become the leading fibreglass
bakkie canopy manufacturer in Southern Africa.
FAMILY RUN. FAMILY FIRST.
Since our humble beginnings in 1972 as a small family­–owned business in Krugersdorp, Beekman has steadily grown to become the leading fibreglass bakkie canopy manufacturer across Southern Africa. We have well over 60 fitment centres across Southern Africa and export operations throughout the continent.
In 2006, Beekman was bought by Imperial Automotive Retail, a venture that allowed us to adopt a more formal corporate structure and assisted us to continue rapidly growing the business whilst focusing on offering the best products and services, to the highest level of customer satisfaction.
Beekman is the only South African canopy manufacturer with ISO 9001 accreditation, which means that our customers are assured of the highest product quality and consistency when purchasing one of our more than 145 canopy products. Beekman is registered with and is also an approved canopy supplier to all the major vehicle manufacturers in South Africa, including Toyota, Ford, Nissan and Isuzu SA. Want to know how the Beekman brand was born?
your personalised beekman solution
HIGHEST STANDARDS GUARANTEED
Our customers are assured of the highest product quality and consistency.
Beekman is proud of our MerSETA-­accredited training school that annually takes in about 40 unemployed people from local communities, and training them in fibreglass production processes as well as life skills and personal finance.
This not only provides Beekman with the best trained production staff, but it also directly benefits and uplifts our local communities.
Beekman is committed to economic transformation in South Africa and is proud to be an equal opportunity employer.
We don't just talk the talk, we walk the walk and that's why we are proud to B-­BBEE Level 3.
UNCOMPROMISED QUALITY & SAFETY
Beekman has earned a solid reputation as "best in its class" with great brand-name recognition due to our high-quality products and customer-first service experience.
With nearly 50 years of history and performance behind us, more people ask for Beekman by name than any other bakkie canopy.
At Beekman was born in Holland in 1913, showing an interest in handywork from a very young age. He successfully completed his "timmerman" (carpenter) trade in 1928 at De Ambachtschool, Rotterdam. At made a career out of the design and manufacturing of boats and caravans.
He started working at Jurgens Caravans shortly after immigrating to South Africa in 1954, and later worked for Mercury Outboard Motors. When working at Mercury he was requested to design and build a fibreglass canopy, something that he later decided he would produce and sell himself.
Production of the first fibreglass canopy started in 1971 in At Beekman's garage for a Toyota MKI, a vehicle that he borrowed from a friend. After completion of the canopy, At placed it on the sidewalk outside his house and sold it quite quickly. He then started work on his second canopy, which was for a Toyota Corona MKII, which was sold in the same way.
Soon he was forbidden from selling the canopies on the sidewalk, and thus premises were rented in Boltonia, Krugersdorp West, where the business quickly started to grow.
In February 1972, At asked his son Attie to join the business.
Financially, they were not strong enough to start out alone, which resulted in them establishing the company with a partner, calling it A. Beekman & J. Roberts Fibreglass (Pty) Ltd. After a short period Mr Roberts was bought out and the company changed its name to Beekman Super Canopies.
At's eldest son Jan, stayed in Cape Town at the time and canopies were driven down to the Cape on a regular basis to be sold there.
They quickly realised that the demand for canopies in the Cape region was huge, especially for the "Cab Over" type. Eventually, another business was established in Stikland, Cape Town in June 1977. Jan's younger brother Kees soon joined him and together, they turned the small family business into a very successful enterprise.
Beekman Super Canopies (Cape Town) changed hands in 1998 and in 1999 the Krugersdorp business was closed. In 2006, the company was bought by Imperial Holdings who continue to successfully grow and expand the business to this day.
FUNCTION.
QUALITY.
AESTHETICS.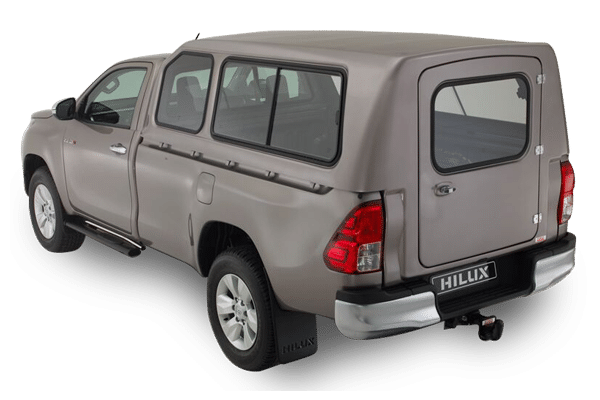 Beekman Canopies are designed to extend your vehicle's loadbin capabilities, protect your cargo and provide increased transport versatility.